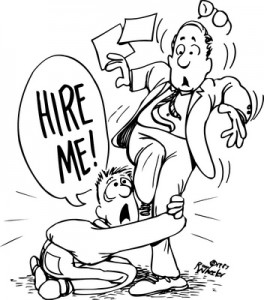 What is the purpose of a job interview for new teachers and staff members in your school district?  Did you know a typical job interview and standard teacher interview questions are some of the most unreliable methods of identifying effective teachers?  Think about your school district's turnover rate and student performance.  If there is room for improvement in both areas, your teacher interview questions and hiring and selection procedures could be to blame.
Why and When Should You Use Teacher Interview Questions as Part of Hiring?
The interview is a selection procedure that attempts to predict future job performance on the merits of applicants' verbal responses to verbal questions.  Their broad appeal seems to be based on our need to feel like we have the Midas touch in finding effective teachers and staff.  Research and statistics have indicated that an unstructured interview format of just "getting to know the applicant" has very little correlation between predicted ability and actual performance.
Many school districts use teacher interview questions as the second and final step to hiring a teacher.  You will likely find the hiring process in a large majority of school districts to be completion of an application, selection of qualified applicants by someone with the administrative staff, followed up by an interview with a member of the school district's administration.  Given the unreliability of an unstructured interview and coupled with the fact it may be the only means used to predict the applicants performance, districts should try to use multiple hurdles within the selection process to narrow the field of applicants.  This would allow a school district to sift the most effective teachers to the top and save a considerable amount of time for the school district's administrative staff.  The teacher interview questions and other teacher selection processes should be confined to evaluating factors that cannot be measured accurately by other methods.  Meaning, if you can gather answers to your teacher interview questions on a paper-pencil format, use a paper pencil format.  The result will be collected data that is less biased and a savings of time for time stretched administrators.
Types of Teacher Interviews
Interviews are categorized under two areas, unstructured and structured.  Unstructured interviews are exactly like they sound, haphazard and unorganized.  In this format the interviewers ask whatever questions come to mind.  Decisions about hiring the applicant are usually made in the first few minutes of an unstructured interview even before the interviewer finishes the battery of questions planned. The teacher interview questions asked of one applicant are usually not consistent with teacher interview questions asked of another applicant.  Not only does this method not allow for an equal comparison between teacher applicants, it is likely to result in a law suit at some point.  Teacher interview questions asked of applicants should be consistent and job related.  If not, make sure your school district has a good attorney on retainer and a substantial settlement fund.
Structured interviews are more likely to predict future performance, but not by themselves.  Again, teacher interview questions should not be your only means of attempting to identify effective teachers for your school district.  Structured teacher interview questions ensure consistency and attempt objectivity in comparing applicant responses.  A job analysis should be completed to identify the core competencies needed for the position and interview questions should allow interviewers to compare responses to job related questions in some type of quantifiable way.  After the competencies are identified selection tools should be developed and answer keys or rubrics should be used to score applicant responses.
Solo or Panel/Board Interviews to Interview Teachers?
If one person has the Midas touch in finding talent, then a panel of interviewers must have the Midas grasp. Right?  Not necessarily.  Research has determined structured individual interviews are similar in validity to panel or board interviews.  In fact, individual interviews are slightly more valid.  This is likely due to added variance from different interpretations of an applicant's answer.  Furthermore, when interviewers have access applicants' scores from previous selection assessments (if they exist) validity drops even more.  It seems interviewers pick up on one characteristic of an applicant and generalize that opinion across all aspects related to the interview.
Conclusion to What Every District Should Know About Teacher Interviews
As you can see, conducting interviews and attempting to effective teacher interview questions and effective teachers for a school district is fraught with liabilities if done irresponsibly.  Topics of training interviewers, different types of selection assessments, writing job descriptions, and many other factors were not even covered here.  If human resource practices within your school district are not adept to identifying characteristics that predict effectiveness and prevent legal challenges from frustrated applicants please contact us.  Our team of consultants will guide you through this process.  We know effective teachers means a successful school district.  A successful school district equals a thriving community and a thriving community gives back to the schools.  We want to help your school and community thrive through better human resource practices in your school district.  Let us know how we can help today.