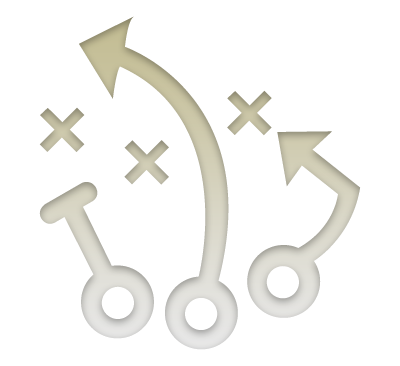 Imagine your favorite sports team.  When you think about what makes them effective, is it only their defense? Likely the answer is no.  If a coach wants to compete they must develop their team's abilities on both sides of the ball.
Human resources are usually considered a defensive mechanism within a school district's administrative staff.  Typically, HR is used to file paperwork according to state and federal employment laws, guide leaders as they make employment, development, and compensation decisions.  All of these decisions are "defensive" in nature that serves to prevent districts from making decisions that could result in negative judgments.  It's not that defensive measures aren't essential, they are simply one sided and will do little to move a school district forward as they compete for talent and adapt to the changing environment of education.  School districts must also engage in strategic "offensive" measures within human resources to maximize the effectiveness of school district's current and future staff.  Examples of strategic and offensive natured human resource measures could be:
Effective selection procedures that predict the effectiveness of applying teachers
Job design models that maximize the talents of staff members and employ efficient measures of work to be done
Needs analysis to identify skills that need to be developed to ensure a school district's staff is proficient with critical skills for current and future needs
Recruiting and retaining effective staff members
Alignment of school district vision and mission statements to staff evaluation models
Measurement of staff attitudes and perceptions to ensure they feel they are a part the decision making process of the district.
Leadership development and succession planning to ensure long term needs of district are met
For many years we have heard the adage "Our people are our most valuable asset."  While that sounds nice, it's not always true.  Many tech firms are run by only a few people but have hundreds of thousands of dollars invested in the hardware and software used to run their companies.  In a school district, people are the most valuable asset.  In the average school district, 48% of the district's budget is spent on teachers' salaries.  Thousands more are spent each year on professional development efforts.  If this is the reality that schools face, shouldn't districts pay more attention to strategic human resource tools available?
In a recent study that evaluated the effectiveness of HR programs within organizations researchers found the effectiveness of HR programs is more important that the mere presence of an HR staff when evaluating the outcomes of an organization, just as the effectiveness of a teacher is more important than simply having a "warm body" standing in front of the class.  The study also found the effectiveness of short term and long range HR strategies was found to be more closely related to organizational outcomes than CEOs.  This is likely due to measures that ensure consistency in an organization irrespective of who is leading the organization.  A final noteworthy finding from the study was that ratings of HR effectiveness were strongly associated with employee attitudes and behaviors.  Employee turnover levels also shared in the association.1
I believe school districts are realizing they can no longer aggregate the efforts of semi-motivated teachers to achieve broad educational goals.  Effective organizations have dynamic cultures of engaged and motivated individuals.  These cultures don't exist by accident; they are designed by forward thinking leaders and competent HR professionals skilled in practices beyond compliance and paperwork.
How is HR used in your district?  Do you have a resource that can help address "offensive" natured HR strategies?  What other unmet HR needs does your district have that will ensure your district's effectiveness in the dynamic educational environment we live in?
(If you found the information in this post or any other article on this site useful, consider subscribing to this blog at the very bottom of the page).
Let Us Help You
K12 HR Solutions is a human resource consulting team that specializes in human resource needs of K-12 school districts.  Members of our team have strong backgrounds in human resources, management and leadership, education, and organizational effectiveness.  Our team members specialize in industrial and organizational psychology, a strategic human resource degree, that focuses on individual and team behaviors that result in desired organizational objectives.  Contact us today and let us help your district increase their effectiveness through improved human resource practices and tools.
1.  Guest, D., & Conway, N. (2011). The impact of HR practices, HR effectiveness and a 'strong HR system' on organisational outcomes: A stakeholder perspective. The International Journal of Human Resource Management, 22(8), 1686-1702.