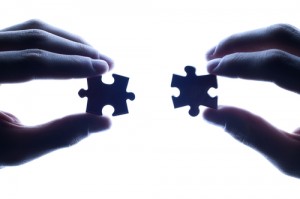 Is a principal the only qualified professional in a school building who can evaluate teacher performance?  Under most organizational models of education the answer seems to be, yes.  It's time to take another look at who can and should develop and help improve the performance of educators in a school district.
When the current model of most schools began over eighty years ago, one of the few and main responsibilities of principals was to monitor the performance of teachers.  Over time, the number of responsibilities for administrators has increased exponentially, while the time available to develop teachers seems to have been reduced by the same factor.  School buildings in large districts have upwards of 1000 students and nearly 100 staff members, while administrators in small districts have fewer students and staff, they find themselves taking on shared responsibilities for tasks such as transportation, maintenance, food services, and many other functions that are absorbed in larger districts by support administrative staff.  What does this mean?  Whether a district is large or small, the time available to properly monitor and develop the performance of teachers is limited.
Administrators and school districts need to be honest about what an evaluation is meant to accomplish.  In nearly every organization outside of education, the term performance management is replacing evaluation.  This isn't a matter of semantics it is an accurate description of what should be the goal of reviewing the performance of teaching professionals.  Teachers shouldn't be "sized up" or inspected for worthiness when being observed by supervisors.  Like the students they teach, educators should be developed to reach their potential.  Under the current model of education, where principals are overwhelmed with increasing expectations and responsibilities and expected to manage the performance and develop 30 or more staff members in a building it is nearly impossible effectively manage the performance of teachers.  A common term in most organizations that refers to how many people a supervisor is expected to manage is known as "span of control."  Most management literature suggests the span of control for a leader should be 12-15 people at the most.  Beyond that number, managers cannot be expected to have time to devote to developing the people that work for them.  For performance management to be effective, those doing the developing must have time to work with, coach, and develop those being observed.
Educators seem to prefer feedback from those familiar with teaching and its struggles.  Principals who have been out of the classroom for several years may have less credibility in the minds of teachers.  The prevalent use of technology and learning strategies for diverse classrooms requires an observer who can quickly identify what is effective, know what could be developed to improve classroom learning, and should be skilled at giving constructive feedback.  Is subject matter expertise necessarily needed to capture the effectiveness of an educator?  Knowledge of instructional strategies and effective methodologies to plan and develop lessons as well as how to assess student learning are broad areas of knowledge and don't require experts in the subject matter field to identify and develop their use in the classroom.  Who would have time in their already busy schedule to do all of this? It would seem the easy answer would be the person the district hires to do the work.  School districts must take an honest assessment of how effectively they are managing the performance of teachers and what is being done to develop them to meet broader district goals.  This task doesn't have to be an ever present competing duty for an overstretched administrator.  Districts have the ability to hire people solely for the role of educator development.  Does this require a graduate degree or administrator certification?  The traditional model of education would say yes, but research has shown that level of education attained and years' experience in the classroom are not reliable predictors of teacher effectiveness.  Whoever is doing the important work of developing teachers must have the knowledge of what effective instruction looks like, the expertise to explain how to plan for and assess instruction based on student needs, and the courage and skill to give critical and developmental feedback to educators.