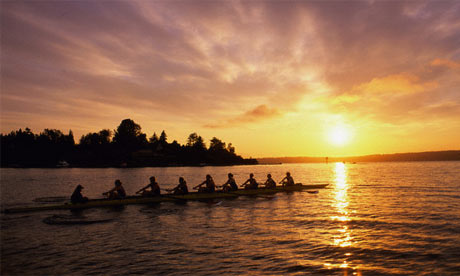 How important are team behaviors in your school?  Do you assess your applicants' abilities to work with a team in your teacher interview questions?  The movement towards team-based work began to catch on about two decades ago in the corporate world.  Companies realized the benefit of creating teams to manage projects and selected members of the team and new employees for the company based on what role they could fill on current and future work teams.  The movement of team-based work was slow to catch on in school districts.  Sure, grade level and department teams have existed for many years.  For the most part though, these types of teams of the past seldom educated students cooperatively and served as more of a committee to select curriculum and other administrative functions.  With recent movements towards Professional Learning Communities (PLC) and Response to Interventions (RTI) working across grade level and department teams isn't optional and has moved team decisions out of the teachers' lounge and into the classroom.  If teaching now and in the future will require staff members to be team-oriented, should your teacher interview questions and other teacher selection methods ensure you are hiring teachers who would do well in a team environment?
Traditional teacher interview questions and selection processes focus mainly on technically oriented competencies for teaching.  These methods will likely fall short in educational team environments because they fail to identify the interpersonal skills needed to do well in the team-focused 21st century environment of education.  If districts want to be effective in this new era of education they must work to identify what contributions are made by teachers in successful PLC and RTI teams, identify the role each member plays, and find ways to assess the potential to perform desirable behaviors among new hires through effective teacher interview questions and other selection methods and manage desired behaviors among existing teachers.  Roles are essential for effective management teams and their pursuit of commonly held goals.  Fulfillment and coordination of team roles are believed to be essential so the team can perform efficiently and effectively.  Coordinating team roles can also prevent process losses associated dysfunctional conflict, role ambiguity, and social loafing (Steiner, 1972).  A better understanding of team roles and the behaviors will lead to more effective selection and evaluation methods of teachers as they fulfill traditional teaching roles and meet commitments within roles assigned on teams.
Identifying teacher applicants who are team oriented or who have the skill set for desired team roles can be difficult.  Sole reliance on teacher interview questions focused on instruction and curriculum philosophies will likely fall short.  Selection methods known as situational judgment tests (SJTs) were first used in the military, and more recently in the business world and government organizations, are effective tools to measure an applicant's propensity to engage in team behaviors and role knowledge within a team context.  The FBI uses SJT interview questions as part of their selection process, and even gives applicants a sample view so they will be familiar with the format of the interview questions.  SJTs are designed to measure judgment in work settings beyond the common teacher interview questions.  They provide the respondent with a situation and a list of possible responses to the situation.  They have been found to be valid predictors of job performance in a wide variety of settings (McDaniel, 2011).  Below is an example of a teacher interview question that may be found on an SJT.
 You and a co-worker are working on a complex project that demands a great deal of effort from both of you. Your co-worker is frequently absent as a result of burnout and stress from his personal problems. You do not know much about the circumstances, nor have you known him for long. Your co-worker contributes very little to the project, and, as a result, you are putting in an excessive amount of overtime in order to keep the project moving ahead. You feel that your health may begin to suffer if you continue to work as many hours.
The most effective response to this situation would be:
a.    Ask other co-workers to help you manage your workload.
b.    Ask other co-workers to help you manage your workload.
c.    Raise the issue with your manager and request additional help to ensure that the project is completed on schedule.
d.    Meet with your co-worker to request that he does his share of the work.
e.    Continue to put in overtime to keep the project moving ahead.
f.    Offer to help your co-worker deal with his personal problems.
Effective teachers or subject matter experts (SMEs) would be gathered to develop keys for the questions.  There are a variety of ways to develop keys for SJTs ranging from a simple selection of the "correct" answer, a rank ordering of the likelihood of performing the above behaviors, or selecting which choice is most and least effective.  Methods such as the one above have far more predictive validity than unstructured teacher interview questions where the interviewer tries to determine if an applicant is a "good fit" for the district.
The pursuit of effective ways to identify teacher applicants who have the knowledge and skills necessary to perform effectively in a team environment and the ability to adapt to changing team roles is essential and worthwhile and must go beyond standard teacher interview questions.  School districts can no longer rely on outdated forms of traditional (and sometimes ineffective) selection methods to identify qualified teachers in this new era of education.  How is your school district adapting to identify competencies in applicants, along with their ability to perform well in a team environment?