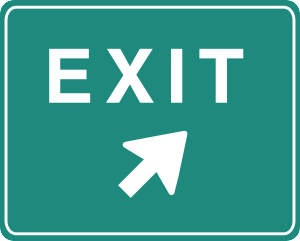 ---
(We recently put together a podcast on this article.  You can listen online or subscribe to the K12 HR Solutions Podcast on iTunes.)
 If you would like even more information about how to retain teachers and reduce teacher turnover, click on the button below and we will send you a few exit survey sample questions we use when developing exit surveys for school districts as well as three research based articles on the topic of exit surveys from professional journals. 
---
Many school districts underestimate the utility of exit interviews and exit surveys. Good teachers quit every year and school administrators are often unaware why their best teachers quit and how to prevent it in the future.  The most effective organizations utilize exit surveys or exit interviews to inform them on how to improve the working environment and reduce turnover.
Many school districts, despite their enormous dependence on human capital and substantial cost of replacing and developing good teachers and staff, continue to operate without effective programs to reduce teacher turnover and are in the dark regarding why their teachers quit.  Turnover can cost districts thousands of dollars per employee.  One study by Feinberg & Jeppeson (2000) estimated the average turnover cost, both in hidden and realized can cost up to $20,000 per employee and even more for senior leadership positions.  The main weapon and insight gathering tool to help determine why teachers quit in the fight against turnover in school districts are exit surveys and interviews.
What Are Exit Surveys and Interviews?
At their core, exit surveys and exit interviews are information gathering tools between the school district and teachers who quit.  Exit surveys can give information about teachers' employment experience and you can identify trends regarding why teachers are quitting.  Effective organizations use exit surveys and exit interviews to gather facts about why teachers quit and develop interventions and action plans based on the data gathered.  Effective school districts should use exit inquiries to guide the development of new policies, improve work conditions, and address key organizational climate areas related to overall job satisfaction.
Researchers have characterized turnover by two variables:
Push: Job satisfaction and the affective attitude towards their jobs due to work setting, policies, leadership, culture, etc.
Pull: Opportunities available in the external labor market and availability of alternative job opportunities
Push represents the internal and organizational reasons why teachers leave and Pull is the external (typically competing job market reasons) school district staff members quit.  Exit surveys or interviews can give school districts insights to create interventions to combat the push and pull that siphons a school district's most effective teachers.
Which Exit Inquiry Method Should you Use: Surveys or Interviews?
Research that compares the effectiveness of exit interview vs. exit surveys indicates that exit surveys produce more reliable results than interviews.  An exit interview is typically one of the last face to face meetings employees have before they leave an organization.  Organizations use both standardized and open-ended questions to gather opinions about the company and reasons for leaving for exit interviews.  Who conducts an exit interview has been shown to affect responses from teachers who quit.  Repeatedly, follow-up inquiries conducted months after teachers quit, produce different responses than reasons for leaving given during exit interviews.  Other than surveys being more reliable than interviews (which should be an essential criterion in any measurement tool) surveys are more efficient in terms of cost and time.  Exit surveys can allow school districts to continually monitor factors that have led to past teacher turnover and proactively identify developing trends that may point to future causes of teacher and staff quitting.
Creating Exit Surveys for School Districts
The rest of this post will remain focused on using and developing exit surveys, rather than interviews due to their superiority in terms of reliability and efficiency.  When school districts create exit surveys they must focus on aspects of their organizations culture that may be affecting exiting employees.  Some broad categories that school districts may want to focus on are:
Perceptions of Fairness and Equity
Reward and Pay Structure
Benefits
Leadership
Organizational Ideology
Training and Development Support
Personal Well being (Physical Health, Safety, Work-Life Balance)
Job Security and Career Opportunities
School districts should also distinguish between voluntary and involuntary turnover, as well as asking respondents to identify the building or department, years employed, classification e.g. administrative, teacher, support staff, and whether the teacher who decides to quit feels the root causes of departure was avoidable, along with a response field on the survey form to allow the exiting teacher to further explain.
Teachers are more likely to divulge more information and are more honest regarding why they are quitting when they understand the objective of the exit survey, believe their responses will be treated confidentially, and feel their input will lead to organizational improvements.  If a mutually beneficial condition does not exist, the departing school district employee is likely to feel there is little to gain in giving honest feedback on an exit survey.  Without detailed and accurate information, responses on surveys are of little use.
Too often, school districts focus their exit inquiry on employee reasons for leaving, rather than systemic organizational causes for turnover (essentially attempting to identify an employee problem, rather than a potential organizational problem).  A careful examination of the teacher/school district break up may reveal the problem in the relationship isn't them, it's you.
Like any type of analysis, multiple data points provide more reliable information.  When review the response from one individual exit surveys may over emphasize personal reasons for job dissatisfaction and sometimes under represent personal desire for freedom and autonomy in career planning or the exploration of other careers or work places due to the attraction of the job market.
Essential Elements of Exit Surveys and their Results
Confidentiality– Districts must emphasize their commitment to keep responses from teachers who quit and complete exit interviews or surveys confidential.  (Allegations of ethical and illegal matters cannot be absolutely guaranteed, depending on the nature of the offense).
Prove their responses matter– Highlight and discuss organizational changes that have taken place as a result of disclosures by departing teachers.  Discuss this during employee orientation and through other parts of the training process.  Reassure teachers who quit that their feedback that will allow the district to take corrective action in areas needed and can potentially improve the working environment for their former co-workers.  As stated previously, departing teachers must see a benefit of being candid during a time when they are cutting ties with the school district.
Clearly state the objective of the exit survey– Teachers and other staff members who quit should be able to read the objective of the exit survey at the top of the survey.  School districts may also consider having a trusted member of the school district's human resource or administrative staff meet with departing teachers to discuss how the data from exit surveys will be used.
Survey remaining peers- Teachers who quit  have likely discussed their reasons for quitting with their peers.  School districts may want to consider conducting an annual or bi-annual climate survey for job satisfaction.  Within the climate survey a job satisfaction measurement can be used to ask teachers and staff members to think about co-workers who have quit in the past six months or year.  Peers can indicate whether they believed the departure to be voluntary or involuntary and then rate various reasons why they think their co-worker quit.  This could also be used as a tool to measure work place perceptions and potentially correlate to departing teacher responses.
Standardize the format of the exit survey- Exit surveys must remain a living document that can be changed as new trends of turnover emerge.  It is best to group individual reasons for quitting under broader categories.
Consider the use of consultants- The design and analytics of exit surveys may seem to be a relatively easy task.  Truly effective exit surveys are aligned to the organization's mission and are free from bias.  Furthermore, departing teachers and staff member are more likely to give accurate and valid responses if they are certain their responses will be utilized and will remain confidential.  If they know their responses are collected by an independent party, it is more likely they will provide meaningful data.  Using statistical analysis consultants can identify relationships between seemingly unrelated reasons for leaving and prevent costly comprehensive reworks of school district policy or structure that is often due to misunderstood or unreliable feedback from departing employees.  Many methodological concerns and criticisms directed towards the exit inquiry process are a result of poorly conceptualized design, testing, implementation, and follow-up action based on information gathered.
Conclusion
The primary concerns regarding exit surveys for any school district should be whether the tool is designed properly, aligned to valued broader organizational goals, and that interventions are developed to address underlying reasons that cause teachers to quit.  Too many organizations use exit surveys and exit interviews as a symbolic departing gesture and do little if anything with responses.  Research by Williams & Harris (2008) surveyed HR departments and found few were able to say what was done with results from exit interviews or surveys.  They expressed concern that information gathered did not lead to any practices aimed at changing policy, reducing turnover, or improving climate factors related to job satisfaction.  These researchers concluded that two-way communication and action on both sides (honest responses from departing employees and willingness to use feedback on the part of the employer) leads to trust on both sides. Williams & Harris remarked, "Employers, for some reason, think quitting employees should be honest, but the organization has no responsibility to act on information gathered.
Concerns and findings from research literature may explain the fact that many companies that conduct exit inquiries have shown little progress in affecting turnover.  These realities beg the question, "Is information gathered not being used, or is it simply ignored by HR and senior level managers?"  Exit programs in school districts are useless without a steadfast commitment to act upon reliable data gathered during the exit inquiry process.  Exit surveys can prove to be your greatest source of insight when trying to determine why good teachers quit.
Need help creating and analyzing factors that are causing turnover in your district?  
Click the button below to receive three free research based articles as well as a few sample questions we use when developing exit surveys for school districts.