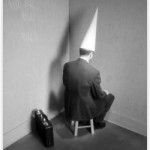 I am working on an upcoming article for teacher interviews and selection methods and I need your help.
It is almost that time of year!  Aspiring teachers across the country will sit before principals and/or interview panels and be asked questions during their teacher interviews.  We are working on a future article to help school leaders in this area, but we need some group feedback for one section of the article on teacher interview questions.
Here is the question:  What are the dumbest, most ridiculous, or most useless teacher interview questions you have been asked or heard of being asked?
I would prefer feedback from current or former school leaders, but if you have ever sat through or conducted an interview with others, you can play along too.  I invited a few social media groups to respond to this inquiry about dumb teacher interview questions, but even if you just stumbled across this website while searching the internet, I would love your feedback too.
So let's here it.  What are the dumbest or most ridiculous teacher interview questions you have heard of?  How do they compare to these dumb interview questions asked at large corporations across the U.S.?  Use the comment area below to respond, or if you prefer participate anonymously you can email me directly at info@k12hrsolutions.com.  Just put dumb teacher interview questions in the subject line and I will promise your anonymity.