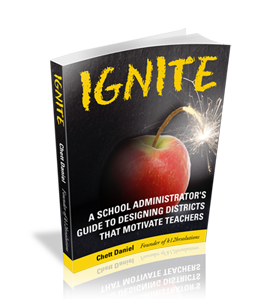 Attention School Administrators!  
I need feedback from sitting school leaders. In return you get a free resource. I am wrapping up a resource that is designed to help school leaders increase teacher motivation within their districts.  The book, Ignite, is a school administrator's guide to designing districts that motivate teachers.  If you are willing to provide feedback and answer a couple of questions, I will send a complimentary copy of the guide to the first 50 school leaders that respond.  That's it!  I want genuine feedback from sitting school leaders and in return I'll send the first 50 respondents a free unedited guide on how to design a district that motivates teachers.  Please use the form on the right side bar of the webpage so I know what level of leadership you hold in your district.  This is a limited time offer only for school administrators who are willing to provide useful feedback.
 Update!
I am down to 5 free copies.  If you would like a free resource to help motivate teachers in your district, fill out the form on the right side of the page.