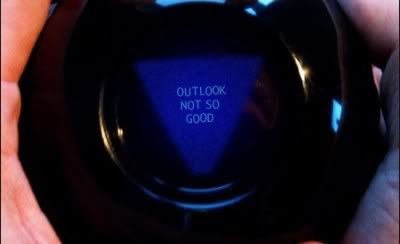 It is still the season for hiring teachers, so I am going to keep preaching the gospel of effective teacher selection practices.  What is today's sermon? What makes good interview questions for teachers.  Maybe a better question would be, is the time you spend searching for the 'right' interview questions and the countless hours interviewing teachers each school year even worth it? 
Unstructured Teacher Interview Questions are Unreliable
Here is what I am getting at; research has shown unstructured interviews are as reliable as shaking the trusty magic eight ball to pick your next teacher. Okay, the findings didn't actually use those exact words, but they did find very low correlations between unstructured interviews predictability (McDaniel, 1994).  So if that is the case, why not ditch the interview process and the search for the perfect interview questions for teachers and invest in Ouija boards and magic eight balls to save everyone time and effort?
You may be thinking, "Chett, why the harsh comments on teacher interviews?  They have worked fine for me."
Well, besides the fact that empirical research has repeatedly found that unstructured interviews are not a reliable and predictable way to hire people, A Google search of the terms "interview questions for teachers" may help convince you to stop relying so much on teacher interviews as the sole method of hiring teachers.  Read the next paragraph and you will see what I mean.
I choose topics for k12hrsolutions in a lot of different ways.  Sometimes I write using the feedback from readers.  Other times I read about topics in business HR literature and consider the implications in education and try to provide school administrators with new insights in how they manage their teachers.   Finally, I choose topics is by researching what other people are searching for on the internet so I focus on relevant topics.  Take this post for example; when I used the search terms "interview questions for teachers" I found it those exact terms were searched nearly 9000 times per month.  At first I thought, "Whoa! There are a lot of administrators out there looking for good interview questions for teachers."  But then I actually looked at the results of the search "interview questions for teachers." I was surprised when I did not find examples of websites helping school district administrators find good teacher interview questions, instead I found pages of sites advising job seeking teachers of the possible interview questions they may face, essentially trying to give teachers a "heads up" on the questions they might be asked.
You may be thinking, "So what? They are just trying to be prepared for the interview."
I disagree.  I think the applicants who are prepared for the interview are the ones who have the knowledge, skills, and abilities needed to do the job, not the ones who have memorized or rehearsed all the 'right answers' to teacher interview questions.  If your teacher hiring process does not effectively and reliably distinguish between these two groups of people, it is broken.
For school administrators, and most other organizational leaders, this is a tough pill to swallow.  We like to think that we have the Midas touch when it comes to selecting people and choosing the right teacher interview questions.  When I speak to principals and superintendents on this topic I usually hear something like, "I've been doing this job long enough that when I talk to an applicant I can get a good feel for them right away."  I believe them.  In fact, research shows that during an interview decision makers have usually made up their mind about whether they are going to hire the person within the first five minutes of the interview (Webster, 1964). The problem is the same administrators that are telling me they know a good one when they see them are often the ones who are leading a school or district that is struggling to retain effective teachers.  I will probably get some backlash for this, but here it comes, many administrators continue to rely solely on interview questions as the sole method of employee selection because their egos make them believe they can be in control of the entire process and frankly because they don't know of any other way to hire teachers.  While the desire to retain complete control over the process of hiring teachers is understandable, sole reliance upon teacher interview questions is both an ineffective and inefficient use of school administrators' time.
Are Your Teacher Interview Questions Valid and Defensible?
When conducting unstructured interviews, typically there is no way to objectively quantify one applicant's performance over another's, which also means there is no way to validate the selection methods being used.  The absence of validity in selection methods baffles me.  Why would school districts not want a way to empirically prove that applicants who perform better on teacher selection methods (to include teacher interview questions) also perform better on performance evaluations later on during their employment with the district?  Or consider the contrary, shouldn't school leaders be interested in learning that applicants who score low on teacher selection processes also score lower on performance evaluations?  This is validity and it should be an essential element of any selection process.  Validity opens up a big can of legal worms in the Uniform Guidelines on Employee Selection Procedures.  To be clear, the guidelines do not compel employers to validate their selection procedures, but they do require employees to produce evidence of validity in selection procedures in any claims of job discrimination.  So if your typical selection methods are invalidated teacher interview questions there is no law against that, but if you have to defend your selection methods due to a claim of job discrimination under Title VII of the Civil Rights Act of 1964, you are probably up a creek and will pay for it in both dollars and in the headlines of local papers.  If you choose to use invalidated selection methods, you can't go back and validate your choices after someone brings a law suit against you.  Employment law is like a grown up that is giving latitude to young adults.  You receive guidance on the right way to do things, but your decision on what to do is up to you, just be ready to deal with the consequences either way.
A More Efficient and Effective Way to Interview Teachers?
Now you know the legal consequences of relying only on teacher interview questions and the consequences of ineffective teacher selection methods, what about the efficient use of administrators time?  How much time pressure does an administrator feel?  Most administrators I have met need five more hours in a school day to feel like they can get half of their to-do list finished.  Regarding teacher interviews consider this, how long does the average interview take?  45 minutes- one hour? How many people does an administrator speak with before they have their list of candidates narrowed down?  Five to seven applicants possibly?  Let's just use those numbers for illustration purposes.  If school administrators interview six applicants, each at an hour apiece, they spend six hours to fill one position.  If they have 10 positions over the course of a school year to fill they may spend upwards of 60 hours looking for the right candidates (and remember with invalidated selection methods there is no guarantee the time spent was even worth it).  Is there a better way to select teachers other than the sole use of standard teacher interview questions?
What if school leaders used a series of job selection hurdles instead of relying solely on an interview?  The first hurdle would be the simple verification of essential and desired qualifications, e.g. teacher certification, federal employment requirements, stable employment history.  Those who met the first hurdle criteria would not be called in for an interview, rather they would be funneled to a selection exam, a situational judgment test for teachers (that has been proven to have predictive validity) where the district could determine which job candidates' judgments most closely reflected existing teachers.  (The process of collecting subject matter expert teachers' insights on a job analysis and transferring those insights into a situational judgment test is a detailed process, but it is an essential component for effective selection methods, professional development, and teacher evaluation criteria and provides the empirical framework needed for reliable, valid, and legally defensible HR decisions.
If teacher selection processes included tools that did not require hours upon hours of interviews and could be delivered either through an electronic or paper pencil assessment, school districts could narrow the field of 15-20 applicants down to the top three or four applicants whose judgments on critical competencies most closely align with existing effective teachers.  At this point school districts could implement the next and possibly final hurdle of their selection process, a structured interview with structured teacher interview questions.  Some districts are even requiring applicant teachers plan and deliver a lesson as part of the selection practice.  If the lesson plans and subsequent lesson that is delivered is judged by criteria established prior to the event, this idea has a much better chance of telling the school district about the abilities of a teacher that simply relying on teacher interview questions.
Concluding Thoughts on Interview Questions for Teachers
Interviews, when structured, have their place in the selection process, but it should be the last place in the series of hurdles so personal judgment and bias do not creep their way into the decision making process early on.  Teacher interview questions should seek to distinguish between each applicant's potential ability to be proficient or excel at job related competencies.  Teacher interview questions should be accompanied with rubrics to allow those conducting interviews to measure applicant teacher responses in a reliable way.  This may seem like a lot of senseless extra work to some administrators.  Take a second though to think about how we expect teachers to measure the subjective work of students, like essays or projects.  Teachers are asked to work in professional collaborative groups to establish criteria for successful performance and put those criteria into rubrics as they score the students' work.  These practices are followed to ensure the students' work is evaluated in a fair and reliable manner.  Why would a school district not want to have the same benchmarks of fairness and reliability in their teacher interview questions and selection practices?  Fairness, reliability, efficiency, and legal defensibility should be the hallmarks of any teacher selection practice.
Finally, one of the key roles of any leader, whether in education, the business world, or in the military is the implementation of systems and processes that allow for succession planning and continuous improvement.  A selection process that relies heavily on one person's judgments does not allow districts to carry over effective selection practices from one leader to the next and certainly does not allow districts to improve upon their practices in attempts to make teacher interviews increasingly reliable.
This post may be a bit of a buzz kill for school leaders who believe they have empirical judgment, or have become comfortable with winging it in attempts to hire effective teachers.  The intent behind this post is not to disparage those who have relied on teacher interview questions in attempts to place effective teachers in classrooms, rather I wanted to bring attention to the inherent flaws (and possible legal ramifications) in unstructured teacher interviews and provide practical solutions for far more effective and reliable teacher hiring tools.  If you would like more information about how k12hrsolutions can help you with your selection methods contact us at info@k12hrsolutions.com.
McDaniel, M.A., Whetzel, D.L., Schmidt, F.L., & Maurer, S.D. (1994). The validity of employment interviews: A comprehensive review and meta-analysis. Journal of Applied Psychology, 79, 599-616.
Webster, E.C. (1964). Decision making in the employment interview. Industrial Relations Centre, McGill University.