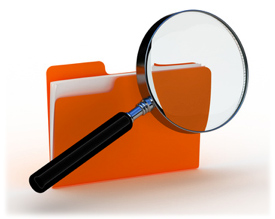 (Due to the number of questions we had about what to audit and what to include in each type of file, we put together a human resource audit checklist for school districts.  You can request a free copy below by clicking on the file image).
Is a School District Human Resource Audit Necessary?
School is finally out for most districts across the country.  Students and teachers have left for their summer break and things around the central office have quieted down (well at least a little bit compared to the frantic pace during the school year).  Just as your district's maintenance department should have a scheduled plan for preventative maintenance and overhaul to prevent costly expenses, so should your school district's human resource department.
Employee human resource records are dynamic files.  Information changes, teachers are added and dropped due to employment changes, and life changes.  As a result, school districts must ensure school district HR files are kept updated and basic controls are in place to ensure employee confidentiality is maintained and the district has accurate information for each employee.  The Society of Human Resource Management (SHRM) provides helpful guidance and considerations regarding the maintenance and controls that should be in place for all school district human resource files.
The advice provided below is not an all inclusive list or legal guidance.  Ideally, you should attempt to audit 3-5% of your district's human resource files.  For a school district with 500 employees, that is about 20 files to audit from each type of file retained, or approximately 80 files in all (which is easily achievable over the course of a week). Some states may require additional controls or establish restrictions on how employee files can be viewed or used.  Each district should consult their attorney for specific legal guidance.
Our objective is to provide food for thought and general guidelines school districts can follow as they maintain their human resource records.  Additionally, we are providing school district human resources audit checklists that you can customize for your own use in your school district.
Maintain Different Filing Systems for Different Employee Records.
It is advisable to keep at least four to five separate filing systems.  Medical files, personnel files, I-9 forms, payroll files, and terminated employee files separately.  Many of these documents contain sensitive information that should not be accessible to everyone working in the human resource office or supervisors.
This may seem like a lot of information to maintain, but keep in mind that you are already collecting all of this information.  Separating the documents into these various folders will make an audit easier to perform and more importantly, it will help ensure the confidentiality of employee work documents are maintained.  So what documents should go in each of these files? We are going to provide a customizable human resource audit checklist for school districts at the end of this article, but here is a quick summary.
Medical files: These files may contain information relating to health benefits, employee related health leave, and pre-employment medical related documents.  Specific examples may include: pre-employment drug screens, lab tests, physicians records of exams, health insurance application forms, life insurance documents, request for medical leave of absence, personal accident reports, workers compensation report of injury or illness, FMLA related documents, medical related excuses for absenteeism or tardiness, medical job restrictions, or any other form that contains private medical information and is subject to the HIPAA act of 1996. Due to the confidential nature of these documents, these files must be kept separate from personnel files (which are typically accessible to supervisors).  Only HR employees who have a "need to know" status and the employee for whom the files are maintained are allowed access to these files.  Supervisors are not allowed to view the contents of medical files.   (You also may want to consider keeping a completely separate file for worker's compensation files.  Under OSHA, federal law mandates that all workers compensation claims must be maintained for at least 30 years after the last date of entry).
Personnel Files: When people refer to any type of human resource file they use the blanket term "personnel file."  Unfortunately this common misnomer causes a lot of legal headaches as private and confidential files are lumped in with job related data.  Personnel files are commonly requested by supervisors or managers and they should only contain job related information.  Items found in personnel files often include: original application, new employee checklist (teacher onboarding information), offer of employment or contract, job descriptions, performance related documents (such as performance evaluations, write-ups, or commendations and awards), training and development documents, job offers, rate of pay changes, job transfer requests and agreements, knowledge and agreements to work policy, records of attendance (but not medical reasons for absences or tardiness), and safety violations (but not worker's compensation claims).  It is imperative to ensure job descriptions in employee personnel files are updated and identify essential job functions. Under the Americans with Disabilities Act (ADA), employers are required to make "reasonable accommodations" based on essential job related behaviors and competencies.  If an applicant is denied employment due to a perceived job limiting disability, or if an existing employee is denied the opportunity to return to work for the same reason, an employer must be able to make the case the essential functions of the job cannot be performed with reasonable accommodations or that accommodations present an undue hardship on the employer.  School districts operating without updated job descriptions are holding a live grenade. If you are in this situation, consider letting us help you.
Payroll Files: Common items found in payroll files can include W-4 forms, time and attendance documents, pay adjustment documents, garnishment orders and records, forms that authorize the release of payroll information (for example when an employee is attempting to get a home loan and employment verification and salary information is requested), benefit selection as well as retirement plan information.
I-9 Files: This one is easy.  It is recommended employers maintain a completely separate file solely for I-9 forms.  The U.S. Citizenship and Immigration Services (formerly the INS) may request to audit your I-9s at any time.  To ensure you are protecting employee confidentiality related to any other document, and to prevent exposing yourself to other liabilities related to the maintenance of employee records, simply keep all I-9 files separate from any other employee records.  Ensure you are collecting the proper documents for your I-9 forms and using updated forms.  Poor I-9 record keeping or outdated forms could cost your school district up to $1000 per violation (ouch!).
Terminated Employees Files:  When staff members leave you need their files still must be retained for a period of time, but for how long? It can be difficult to remember how long to keep terminated employee documents once the separate from the school district.  The straight answer is. . . . it depends.  Different types of documents require different lengths of retention.  Here is a helpful document in the event you wanted to separate the files and dispose of them at the end of their required retention period.  A good rule of thumb is to retain all records, with the exception of worker's compensation files, for at least seven years after the last day of employment.   As stated above, workers compensation files should be retained for 30 years after the last date of entry in the workers compensation file. Some states require longer periods of retention for employee records than federal requirements.  You should be familiar with your own state requirements regarding employee record retention. Keep in mind that any documents including medical information, SSNs, marital status, national origin, religious beliefs, age, criminal history, financial  history, child support information, reference checks, investigations, interview notes, or employment test results should be filed separately from personnel files.
Other Considerations Related to Conducting a School District Human Resource Audit
Establish clear parameters regarding which employees have access to which files.  Keep an updated record of who has access to which files.
Keep confidential records in a locked and secure filing cabinet or if stored electronically ensure access is limited to "need to know" users.
Are you following state guidelines related to who can access employee personnel files?
Are you maintaining the proper wage and hour information for nonexempt and exempt employees and are these properly indicated on current job descriptions?  Here is a helpful site that details which records must be maintained for these job classifications under the FLSA.
Are you following state guidelines for payroll record retention?  The general rule of thumb is all payroll records must be maintained 4 years after the last date of entry.  HOWEVER, state requirements may be different from federal guidelines and it is up to the employer to be familiar with the specific record keeping laws for each state.  Here is a helpful tool to view wage and hour record keeping laws by state
Is your district following best practices in the hiring process as well as other important human resource practices?  This document from Minnesota's Department of Trade and Economic Development is a great resource for important questions you should be asking regarding your school district's human resource practices.
In addition to the proper maintenance of employee files, school districts should also use a human resource audit to ensure they are compliant in each work location with federal and state mandated employment posters, such as minimum wage, EEOC requirements, OSHA regulations and more.  Here is a complete listing of federally mandated workplace posters as well as an opportunity to order them if you need to replace or add them to newer work facilities.
Concluding Thoughts
Ensuring your school district is managing employee files correctly can be a seemingly mundane task, yet doing so ensures efficiency in the central office, protects employee privacy, and could potentially save the districts hundreds, if not thousands of dollars in fines.
Take time to request our free school district human resource audit forms, customize them to fit your district, and take advantage of this brief lull in the district office to ensure your district's human resource files are in order.