"There are complaints from parents and staff members that you are lazy and unprofessional. The perception is you don't seem to care about your students or the people who work with you. "
"Well, how would you know? You don't have any idea how difficult it is to teach these days with so many unrealistic expectations. You spend all day in the office or at meetings, bark out a bunch of orders from your phone or desk, and are completely out of touch with what it is really like in the classroom now."
Fear of difficult conversations with teachers, like the example above, affect the growth of school districts which improve or fail based on the behaviors of those whose job it is to carry out instruction and affect student learning. When teachers and staff members are committed to their craft and doing everything they can to further the district's mission, growth is significantly more likely.
But what if some staff members are not committed to their role and exhibit behaviors that inhibit growth among the students they are responsible for as well as growth within their professional team? The question of how to have difficult conversations with teachers is a topic in which school leaders need to become comfortable.
In an ideal world teachers and staff members would welcome feedback regarding their performance and work behaviors, positive or negative. Ideally, praise would encourage more of the same behaviors and constructive criticisms would be accepted with an open mind, lead to self-reflection, and a promise to do better in the future. As most of you know, negative feedback is seldom accepted in this way. People tend to seek feedback when they have performed well and avoid feedback when they have performed poorly (Moss, Valenzi, & Taggart, 2003).
The Paradox of Becoming a Principal
Most principals began their careers as teachers. The personalities of teachers are not confrontational in nature.  The question of how to have difficult conversations with teachers isn't on the radar.  Educators are more concerned with how to have difficult conversations with parents, and that topic isn't covered in most college classes either. Teachers are, for the most part, nurturing and supportive individuals. They work to establish relationships and develop confidence in those they work with.  The transition to school leader can seem like a divergence from that role.
Principals must deal with conflict head on. Conflict delivers itself in many forms to the principal's office. It can include conflict between students and teachers, teachers and parents, teachers and teachers, principal and parents, and finally (and likely most concerning for new administrators) conflict between teachers and principals. When preparing for how to have difficult conversations with teachers, the fear of an employee becoming defensive and the potential of strained working relationship can prevent school leaders from engaging in honest feedback that is needed to improve district performance.
Research supports school leaders' fears about difficult conversations with teachers. DeNisi (1996) found that people are demotivated when they receive feedback that threatens their self-confidence. Other organizational psychologist found in later research, "If leaders believe that he or she can successfully manage the performance of subordinates in a way that performance improves, they will be more likely to actually influence subordinate performance" (Corbett & Anderson, 2011).
The sooner school leaders can ease their discomfort in having difficult conversations with teachers and develop the confidence and strategies to deliver meaningful and constructive feedback, the more quickly the staff and district as a whole can improve.
Why do Leaders Avoid Difficult Conversations with Teachers?
An article from the Academy of Management Executive titled Are Your Employees Avoiding You?: Managerial Strategies for Closing the Feedback Gap explored different types of leaders and how they have affected the outcomes of major events ranging from the 2003 Columbia Space Shuttle tragedy, the Iraq War, and the spread of the SARS epidemic.  One type of leader profiled in the article was the "Conflict Avoider."
The conflict avoider was described as uncomfortable with giving bad news to others. These types of managers, as the name would suggest, deliberately avoid giving bad new to others. The authors contend conflict avoiders often delay giving feedback to others when they deem the conversation could be uncomfortable or contentious. As a result, the delay causes a disconnect in the employees minds between the perceived poor performance and tardy feedback. Conflict avoiders may also attempt to distort feedback or sugarcoat poor performance so it will seem less severe than it really is. The result is a message that fails to address the performance problem and will most likely fail to result in improved performance.
The same article also addressed the nurturing style of management that conflict avoiders may resort to. The article found some conflict avoiders do not overtly try to avoid conflict they just want to be supportive, often to a fault. In this case leaders may focus on providing support, consolation, and reaffirmation of the employee's competence as well as the need for approval among their employees. This need to provide nearly unconditional positive feedback can result in ignoring glaring indicators of needed improvement.
The nurturing style of management becomes even more problematic when attempting to remove a poor performer from their position if their job evaluations have been positive in nature and fail to address serious performance concerns that should have been documented and previously addressed.
Avoiding Difficult Conversations with Teachers is Natural
It's human nature to back away, or at least be apprehensive regarding difficult conversations. Humans approach situations they fear will hurt them or others very carefully. Remember fight or flight from psychology 101? Difficult conversations with teachers are not predictable.  As a result, many people would rather avoid having them than walk into a difficult conversation unarmed, and who can blame them? After all it is part of our psychological makeup that has to be rewired through training and cannot change just because a job title changes from teacher to principal.
Effective school leaders do not choose to fight, nor do they avoid difficult conversations and opt for flight. Rather, they respect their responsibility as instructional leaders of their school as much as they respect the teachers they lead. Overtime and with practice they become more comfortable with having difficult conversations with teachers.
We are going to look at how to have difficult conversations with teachers from two perspectives.  The first perspective, provided in this article, is obviously from an ineffective leader.  It provides a sure fire way to lose friends and alienate people.
At the end of the article are offering a complimentary handbook, How to Open a Can of Worms: A Principal's Guide for Having Difficult Conversations with Teachers.
10 Tips on How to make Difficult Conversations with Teachers . . . . . More Difficult.
If you want to blow up a professional relationship and sabotage any hope of working in a collaborative manner with the teachers and staff you lead, take careful notes and follow these steps when you prepare for difficult conversations with teachers. (Look for the truth behind these tips that are dripping in sarcasm and find more information in the handbook, How to Open a Can of Worms.
1. Do not establish an outcome objective before difficult conversations with a teachers begin. Ignore warning signs when your difficult conversation with teachers is going off track.
2. Assure yourself that the employee whom you are about to speak with bears 100% of the blame for their poor performance, or whatever the issue is. Assume mentor teachers, who may have also dodged difficult conversations, previous leaders, college advisers, or factors unknown to you have no impact on the behaviors that need to be addressed.
3. Assume you have all the facts before you ever meet with the teacher. Forget about the need to gather their perspective and refuse to look outside of the preconceived frame in which you have already shaped the situation. Hit them with the truth as you see it and be closed minded to any other reality.
4. Ease into a difficult conversation or plan to trick or manipulate your subordinate so when you have difficult conversations with teachers you are able to hoodwink them to get your way using an indirect approach. Here's an example:
Shawna, who has been principal for nine years in a busy suburban elementary school, has some difficult news to share with Dalton, a second year 3rd grade teacher. Shawna has observed Dalton's performance over the past couple of years and has decided he may not be a good fit for her building. Dalton seemed to have a lot of potential when he first started. He interacts well with students, but after the first few months of his second year of teaching he just cannot seem to get it together. He teaches with a veteran team of long term teachers, so Shawna knows he has the support he needs. Shawna has recently learned about an upcoming opening for a middle school gym teacher at a nearby school in the same district. She knows that Dalton is certified to teach physical education, though he has never expressed an interest in teaching it at her school, or any other school for that matter. Let's watch as Shawna tries to coerce Dalton to step into her frame and follow her plan.
Shawna: "Hey Dalton! Sit down. I wanted to visit with you about an opportunity. (Dalton sits and smiles thinking he has done something well to deserve an "opportunity"). Do you sometimes feel like teaching 3rd grade is soooo overwhelming and nearly impossible to get your arms around?"
Dalton: "Well it is far more difficult than I imagined when I was in college, but I think I've learned a lot in my second year and I have a lot of good ideas that I want to implement next year."
Shawna: "That's great! But do you ever wish that maybe you would have used that physical education certification and coached instead of being trapped in a room with a bunch of 8 and 9 year old children all day?"
Dalton: "Not really. I hope I haven't given you the impression that I don't like teaching here. I love working with the students. There are many parts of the job that are challenging for sure, and I wish I had more time to spend talking with some of my peers, but I feel like I'm starting to get the hang of it."
Shawna: "I see. But, what if you could work with students and not have to grade papers every night? They have a physical education job opening over at Westview Middle School and with your experience working with students and your certification in that field, I think you would do great!"
(Notice how Shawna has ignored possible sources of frustration Dalton has revealed and keeps pushing her solutions instead of digging addressing her performance concern and exploring the causes).
Dalton: "It sounds like you want me out of the classroom. Why? I haven't complained about grading papers and I don't think I've ever expressed an interest in being a P.E. teacher. I know I haven't been as good as a teacher as I had hoped for, but I really feel like I have gotten better this year."
Shawna: "No, no, Dalton. I just wanted to make sure you were aware of some upcoming job openings and that you were enjoying teaching 3rd grade."
Dalton: "I do."
Well that didn't work out as planned. Shawna was able to assure this disastrous outcome by framing the issue as a job that Dalton did not want to begin with. If Dalton really was a bad teacher, Shawna missed the opportunity to discuss her performance concerns with him and begin interventions to improve instruction. She was able to further sabotage their relationship by throwing trust out the window.
Shawna implied a level of dissatisfaction with Dalton's performance and urged him to apply for another job. When Dalton called her on it, she reversed course and acted as though everything was fine. It is likely Dalton will question Shawna's motives and honesty for the next several years and is likely to share this experience with a few co-workers.
5. Do not show any personal interest or investment in the person you are speaking with. The more impersonal or distant you seem the more you can alienate the person you are speaking with. Make them feel like no one else has ever made similar mistakes or faced the same struggles.
6. Compare the teacher's behavior or shortcomings to their peers, not to an objective standard of expectations. For example, "Becky, when I compare your test scores to those on your grade level team, you consistently have the lowest scores."
7. When having difficult conversations with teachers, fail to connect how the undesired behavior or lack of performance is affecting building overall and the mission of the district. By doing so, the teacher will be sure to think the difficult conversation is personal and be blind to the larger impact of their performance.
8. For the sake of everyone's comfort, don't dig below the surface of the problem. Assume the undesired behavior, especially when it seems to occur frequently throughout the district, is a product of the current generation of new hires, bad karma, changes in society, or any other defensive reasoning explanation that is not related to deeper level issues that need to be resolved within the school building or district. Discourage organizational reflection and deeper learning. Assume that systematic negative behaviors point to other people's problems, not issues that need to be addressed within the district itself.
9. Delay feedback as long as possible when preparing to have difficult conversations with teachers. When leaders wait long enough they can ensure subordinates cannot see a connection between their behavior and the immediate cause. Remain clueless to effective methods of providing performance feedback.
While this last tip does not apply to having a difficult conversation with a particular teacher, it does offer a sure fire way to allow the leader to feel like they have addressed an issue, without really having to address the issue or deal with the actual work of providing specific and difficult feedback.
10. Manage with a bullhorn to blast messages to the entire staff when the message is really intended for a particular person. Make a generalized statement at a staff meeting or send out an all staff email to address negative behaviors that are only applicable to a couple of staff members. When you do this you can ensure conscientious and effective teachers will wonder what they have done to draw criticism, while the target audience completely misses the message and assumes it was intended for someone else.
A Free Resource to Help School Leaders Have Difficult Conversations with Teachers
This is not an exhaustive list by far. There are hundreds of school leaders who follow the K12 HR Solution's Blog that have additional insights on how to make sure difficult conversations with teachers go terribly wrong. Feel free to join in the sarcasm and offer your comments below.  Your insights can help other school leaders avoid mistakes that experienced school leaders have witnessed or experienced firsthand.
Now that you know how to wreck difficult conversations with teachers, allow us to share some insights on how to prepare for and navigate difficult conversations with teachers successfully. This article is already long and we want to provide school leaders with a useful guide (free of sarcasm) packed with advice from organizational behavior research and proved techniques to improve performance in the midst of difficult conversations with teachers.
Click on the link below to receive your free guide and we encourage you to share a link to this blog article on your favorite social media platform to let other school leaders know about this resource we will only be offering for a limited time.
Click here to receive your free guide of
How to Open a Can of Worms:
A Principal's Handbook for Having Difficult Conversations with Teachers.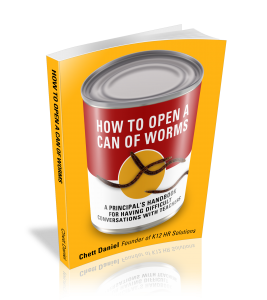 We hope you find the information useful.  For more information about K12 HR Solutions and how we can help you, visit our services page or simply contact us.
References
Corbett, A.T., & Anderson, J.R. (2001). Locus of feedback control in computer based tutoring: Impact on learning rate, achievement and attitudes. In Proceedings of ACM York: Association of Computing Machinery Press.
Kluger, A.N., & DeNisi, A. (1996). The effects of feedback interventions on performance: A historical review, a meta-analysis, and a preliminary feedback intervention theory. Psychological Bulletin, 119 (2), 254-284.
Moss, S. E., Valenzi, E. R., & Taggart, W. (2003). Are you hiding from your boss? The development of a taxonomy and instrument to assess the feedback management behaviors of good and bad performers. Journal of Management, 29, 487–510.