Podcast: Play in new window | Download | Embed
Subscribe: Apple Podcasts | RSS | More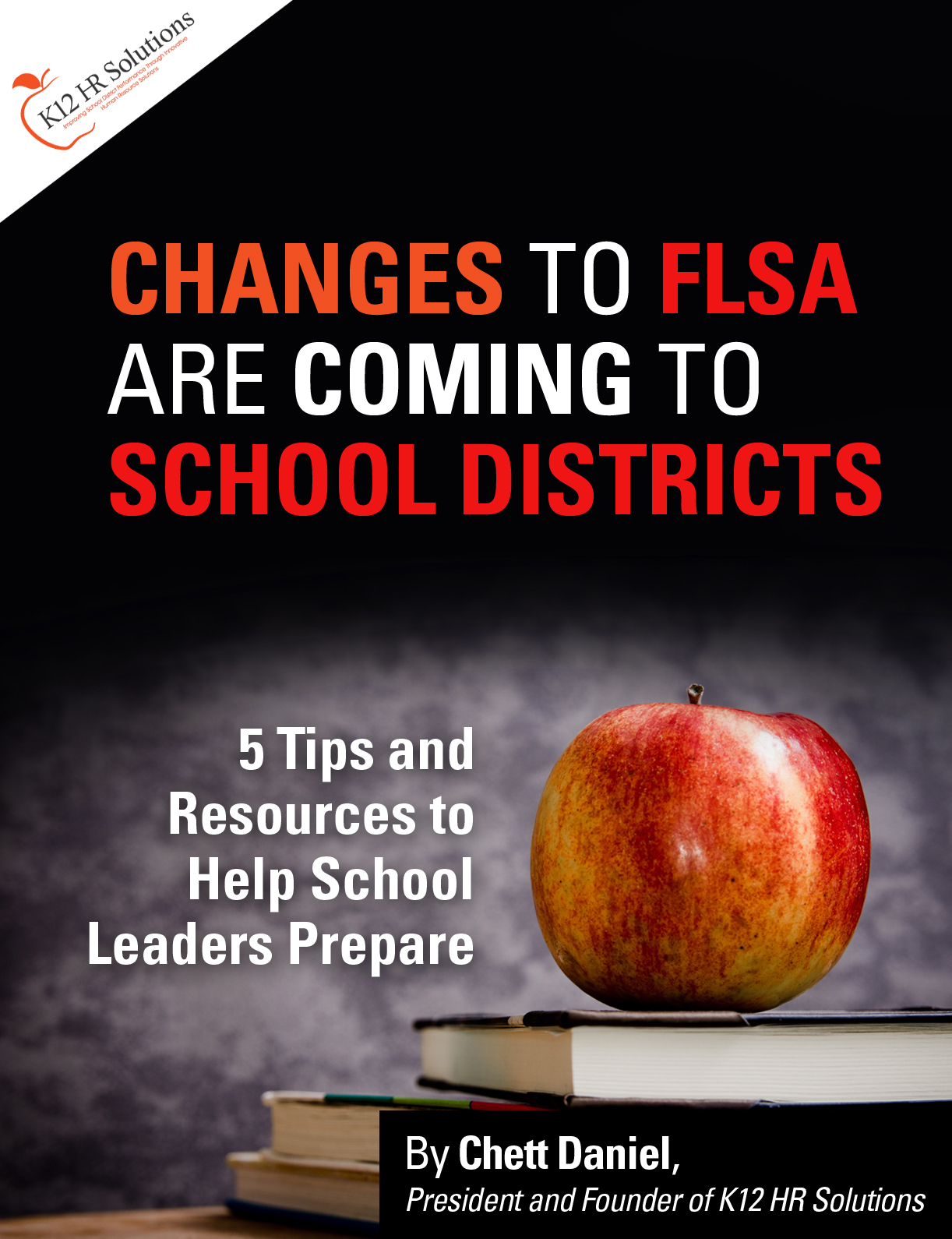 On this episode of the K12 HR Solutions Podcast I'll discuss:
Changes from the Department of Labor that will take effect December 1, 2016
Exemptions under FLSA and which ones are more likely to affect school districts
How these changes will likely impact school districts
How school districts can prepare for new changes to FLSA
A free resource to help school leaders budget for the impact of FLSA changes
On May 18, 2016 the Department of Labor (DOL) announced the Final Rule for overtime under FLSA. The new rule will take effect December 1, 2016.   (We wrote extensively about the possible changes in this article about FLSA Changes in School Districts in case you want a more in-depth review of some of the information presented here).
The change will entitle most salaried white collar workers to earn at least $913 per week or $47,476 per year.  The new salary requirement or test is more than twice the old salary requirement of $23,660 per year.
Exemptions Under FLSA Reviewed
Classified or Non-Certified
Certified
Exemptions under FLSA are:
Executive
Administrative
Professional
Outside sales
Computer employee
Highly compensated employees
A more detailed description of FLSA exemptions can be found on the DOL website.
How FLSA Changes Could Affect School Districts
An employer can choose to classify certain employees as exempt under FLSA if they expect the position to have frequent overtime, fluctuating hours, or some other factor that makes sense financially and logistically to pay an employee salary and classify them as exempt.  If an employee is classified as exempt they must meet three criteria, or tests.
The employee must be paid on a salary basis.
The employee must perform very specific duties to be considered exempt.
The employee must also be paid (on a salary basis) a minimum salary.
School District Employees Impacted by New FLSA Rules
If a staff member is non-exempt, meaning they are paid at an hourly rate and are compensated overtime (at least 1.5 times their regular rate of pay) for all hours worked over 40, there are not likely to be impacted by the changes to FLSA.
The new FLSA rule does not apply to bona-fide teachers.  Under the professional exemption teachers have a special exemption that excludes them from the salary test.
The DOL clarified rules that allows some district employees within the administrative exemption to be excluded from the new salary test as well.
The administrative exemption is also available to employees compensated on a salary or fee basis at a rate not less than $913 per week under the new rule, or on a salary basis which is at least equal to the entrance salary for teachers in the same educational establishment, and whose primary duty is performing administrative functions directly related to academic instruction or training in an educational establishment.
What School Districts Should Do About FLSA Changes Now
Identify Exempt Employees, Salary, and Contract Length.
Identify all employees who are currently classified as exempt and don't receive pay for overtime worked. In the materials attached to the guide below, we have included some example jobs to help districts identify which positions fall under which exemption category.  Ask your district's HR department or payroll clerk to pull information for everyone who is known to be, or thought to be, exempt level workers along with their current salary or rate of pay and length of contract.
Survey or Poll Employees or Supervisors and Project Impact
Consider surveying or polling employees or supervisors to determine which of your exempt level employees regularly work more than 40 hours a week.  (Communicate your intent to your supervisors and the potential budget impact so exempt level employees are less likely to embellish their typical work week in efforts to avoid the perception they are "watching the clock" or doing the bare minimum).  We have provided a worksheet in the resource guide below to help measure the financial impact these FLSA changes may have on your school district. Simply enter your current exempt level employee names, salaries, contract length as well as the average number of overtime hours worked per week in the appropriate column. The spreadsheet we've created should now show you the budget impact.
Project Impact
Now that you know who exempt level employees are, how much they make, and how much overtime they are likely to have, you can begin to plan the impact of potential changes on your district. On the spreadsheet provided in the resource packet you can update the figure in cell Q4 to the new salary rule ($47,476) to determine the positions which would make sense, financially, to move to the new exemption amount, and which positions you may want to leave at their current rate and simply pay the overtime rate.
Restructure or Reallocate
In some cases it is nearly impossible for exempt level school leaders to avoid overtime, but in others reallocating the duties in a particular position may help in reducing overtime and the financial impact of changes to the FLSA salary exemption.   Some positions though may comprise of administrative duties that fill the day and causes the manager or director to regularly take work home.  It may be that some of the administrative responsibilities in the position could be restructured or responsibilities could be reallocated to other or subordinates to reduce, as much as possible, the likelihood they will end up with overtime.
Ensure Your District's Job Descriptions are Valid
Job descriptions can be one of the most critical tools in building legally defensible human resource practices and tools, if designed properly. Ensure job descriptions were created in a valid and legally defensible manner and have captured essential job functions.
If your district needs assistance in updating job descriptions, please don't hesitate to contact us to see how we can help your district.
Conclusion
This podcast episode and complimentary guide only scratches the surface, of course, and school districts must take into account a number of other details and considerations when deciding what to do about FLSA changes.  District leaders must also be sure that whatever plan it adopts complies with other applicable laws besides the FLSA, such as state and local wage-hour requirements.
Use the link below to download resources to help you better plan for and budget for FLSA changes to school districts.  If you need additional help to audit your district's FLSA classifications, please don't hesitate to contact us.