The effectiveness of your school district will be determined by the people who work for you.
School districts accomplish their goals through people.  How you select, develop, motivate, and manage the teachers and school leaders in your school district matters more than curriculum, software, or even facilities.  Allow us provide some insights on how to accomplish your district goals through the people who work for you.
Here Are a Few Ways We Can Help
Develop effective and customized teacher selection tools to recruit and hire quality teachers.  One of our clients told us, "Hiring the right staff is the most important thing we do."  We would have to agree.  We can help you develop customized and effective hiring practices that are fair and legally defensible.
Pay and benefit plans are one of the most important ways districts communicate value to employees.  We can help your district evaluate and develop compensation and benefit plans that are internally equitable and externally competitive.
Create customized solutions to measure and increase teacher motivation and engagement.
Identify factors relating to teacher turnover and help leaders address those factors in leadership and environmental factors.
Conduct job analysis for school districts to identify critical factors related to effective teachers and staff.
Create customized electronically stored job descriptions to communicate essential tasks and competencies.
Assist in the development of teacher evaluation tools that are customized to the local district, not state and national templates.
We understand the unique nature of school districts and their human resource needs.  Here is what one of our most recent clients had to say.
"Any time you hire a consulting firm, you take a gamble on the quality of work you will get from them.  With K12 HR Solutions, we hit the jackpot! Their work was thorough and totally supported by sound research.  The teachers and administrators that worked with them through the process were impressed and remarked, "they get it."  Our board felt they delivered exactly the kind of information and recommendations we needed.  As a small district, we cannot afford an HR position and worried that we may be missing some pieces that could get us into trouble with any kind of job-related action against us.  We feel confident now that K12 HR Solutions has put us in a good position to weather any challenge to our hiring process."

Richard Scaletta

Superintendent of Schools, General McLane, Pa School District
K12 HR Solutions Resources to Help You Get Started
One of the largest obstacles to student success may not be student engagement, it may be teacher engagement.  Ignite provides a framework ensuring organizational tools and strategies within the district support a more motivated and engaged teaching staff.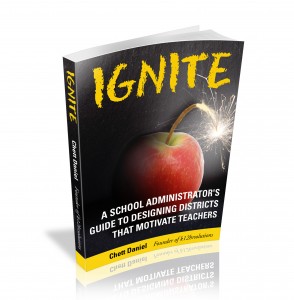 Subscribe to our free newsletter and receive monthly articles from K12 HR Solutions.  Here's what you can expect from our newsletters:
Current topics related to organizational effectiveness, leadership, and management of human capital.
Important updates regarding HR law and policy and how it could affect school districts.
Gain insights through our interviews with thought leaders in human resources and school leadership.
Free downloadable tools and resources