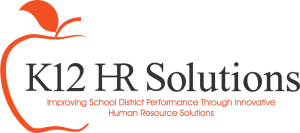 Our mission is to help your district become more effective through improved human resource practices that are specific to your district's needs.  We provide tools and resources that will rival some of the most effective organizations in the private and public sectors.
One of our most recent clients had this to say about a job analysis and selection project we completed for them:
"Any time you hire a consulting firm, you take a gamble on the quality of work you will get from them.  With K12 HR Solutions, we hit the jackpot! Their work was thorough and totally supported by sound research.  The teachers and administrators that worked with them through the process were impressed and remarked, "they get it."  Our board felt they delivered exactly the kind of information and recommendations we needed.  As a small district, we cannot afford an HR position and worried that we may be missing some pieces that could get us into trouble with any kind of job-related action against us.  We feel confident now that K12 HR Solutions has put us in a good position to weather any challenge to our hiring process."

Richard Scaletta

Superintendent of Schools, General McLane, Pa School District
What We Can Do for Your District
Job Analysis and Job Description for School Districts: This should form the foundation for all of your school district's human resources tools.  
A job analysis will identify the competencies,behaviors, and other factors that are needed for each position.  We do not used a "canned" approach to classifying positions.  Each job analysis and job description is customized based on the specific needs of individual school districts.  
Using the customized data from job analyses we can create updated and accurate cloud based job descriptions for your district to ensure you are compliant with FLSA and ADA requirements.  Through the use of our job analysis process we can also help your district develop teacher selection tools as well as professional development plans (discussed below).  Finally, as part of our job analysis survey, we can also conduct job evaluations to ensure your district is compensating exempt and non-exempt workers at rates that are both internally equitable and externally competitive. 
Teacher and Administrator Selection Practices and Tools:  Are you using a hiring tool that has simply moved the stacks of applications on your desk to a stack of applications in your inbox?  Our teacher and administrator selection tools are designed to help your district save time and money identifying teachers whose judgments and likely behaviors align to your current most effective teachers and your district's mission. Through the use of our job analysis software we create reliable and valid selection tools to help your district hire highly effective teachers.
Teacher Engagement Strategies and Surveys: Motivating teachers requires more than an inspirational poster and an energized speaker at the beginning of the school year.  We can work with your administrative or HR team to help you design your district's HR systems to motivate teachers.  We also provide engagement surveys so you can measure your impact towards increasing teacher motivation.
Professional Development Design: You should know what makes your effective teachers, well . . . . . effective.  We can help your district identify the competencies that new teachers should learn upon being hired and which competencies need to be developed among existing teachers.  We can design a professional development plan that can serve as the road map to assist your district in achieving their organizational goals.
Exit Surveys: Would you like to better understand why teachers are leaving and what you can do to reduce teacher turnover?  We provide exit surveys that measure factors that influence teacher turnover and provide your district with an action plan to reduce turnover and increase job satisfaction.
Informed Business and Personnel Decisions: Don't spend money on programs and initiatives that you later find out don't matter to your employees. Do you know which factors related to salary and benefits are most important to your staff members or how each factor will impact their overall satisfaction with work?  We use your district's data to statistically analyze employee responses and provide you with employee talking points and an action plan to affect the areas that matter most to district employees.  We can also measure your staff's opinions on important issues related to labor relations, leadership, community support, safety, or any other area you would like to measure.
360 Feedback Surveys:  Are you measuring your key stakeholders opinions on factors that important to your district?  360 feedback surveys aggregate insights from parents, staff members, and students and provides a comprehensive picture highlighting the strengths and weaknesses of the district (according to stakeholder perceptions).  We conduct statistical analysis on each stakeholder group and then analyze the feedback of all three groups to provide school districts with a report card of what parents, staff, and students think the district is doing well and what developmental opportunities exist.  This powerful tool can help breakdown barriers to change by contrasting different stakeholders opinions on the same questions and then providing each stakeholder group with feedback on how well they are helping the district reach their goals in key areas.  If you are looking for a resource that can capture the sentiments of the most important groups your district serves and then provide a road map on how the district can connect with those groups, give our 360 feedback survey a try.
Use the Form Below to Request a Free
Bid for Any of the Services Listed Above